Dover Downs | Columbus Day Getaway | Oct 13-15, '19
Dover, Delaware and Baltimore, MD
GREAT CASINO TRIP! Depart Columbia, SC on Sunday, Oct 13 for Dover Downs Resort & Casino. Spend 2-nights on property. Enjoy 2 daily breakfast buffets, 1 Dinner buffet, 1 Dinner at Phillip's Seafood in Baltimore, and 1 Dinner on Return, PLUS $100 in slot play per person.
Price: $399 per person (double occupancy - 2 per room) No Quads or Triples. Single supplement $170. BOOK NOW! 15 SEATS ARE STILL AVAILABLE!
Southern Caribbean Cruise | 11-Night | Mar 3-16, 2020
Fort Lauderdale, FL Barbados St. Lucia Martinique St. Kitts
Tropical delights will excite as the sun kisses your cheeks in the ports of Philipsburg, Sint Maarten: Fort-De-France, Martinique; Bridgetown, Barbados; Castries, St. Lucia; Basseterre, St. Kitts & Nevis; and Half Moon Cay, Bahamas. Marvel at the beauty of the magnificent Mount Pelee volcano and the volcanoes and beauty of Soufriere Bay. Travel aboard the stunning Holland America Koningsdam and visit the Caribbean's exotic islands. Travel via Amtrak from Florence, SC to Fort Lauderdale.
FEW SPACES ARE STILL AVAILABLE!


Alaskan Cruise | 7-Night | May 16-23, 2020
Seattle, WA Glacier Bay National Park Junea, AL Ketchikan, AL Victoria, BC
Witness first-hand the breathtaking beauty of the Alaskan skyline. View the jaw-dropping glaciers as they come into view aboard the elegant Ruby Princess. Enjoy 4 ports of call including the Canadian port of Victoria. PASSPORTS ARE RECOMMENDED.
SPACE IS STILL AVAILABLE! REDUCED PRICES DUE TO NEW AIR RATES* (PRICE IS SUBJECT TO CHANGE.)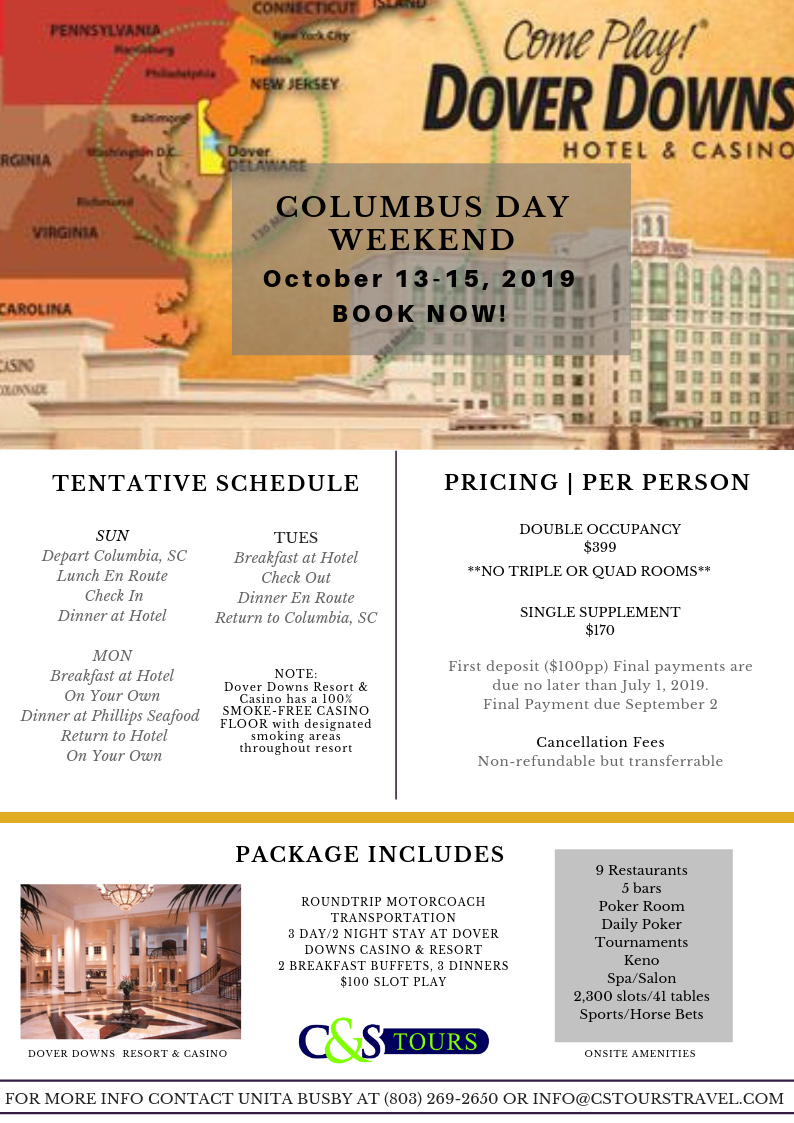 Registration
To register for a trip, please contact the group leader listed on the trip flyer.
If no tour leader is listed, please email
reservations@cstourstravel.com or call 803-780-4460.
Payments
Payments can be made by credit card, check, money order, etc.
A $35 fee will be charged for any returned checks.
NOTE: Payments for any C&S Tours trip can be mailed to the address listed below.
C&S Tours, LLC
c/o [Place Trip Name Here]
P.O. Box 534
Ballentine, SC 29002
Please be sure to include your legal first and last name, roommate(s)' name(s) if any, and contact phone number
with your payment.